With over 10 years of dedicated experience in recruiting, CoreEdge has been very successful in implementing Recruiting Process Outsourcing (RPO) to its customers. Our Recruiting Process Outsourcing practice is an end-to-end solution that frees up your organization from the burdens of the hiring process. We provide various types of services in RPO which include:
Contract Staff Recruiting
Contract to permanent recruiting
Project based recruiting
Recruiting for in-house staff
Our RPO is driven by teams of senior recruiters using our process driven web based application called EmployMe. We have onshore coordinators who work with the customers to have a seamless interaction with our recruiters. Here is a high level view of our RPO Process: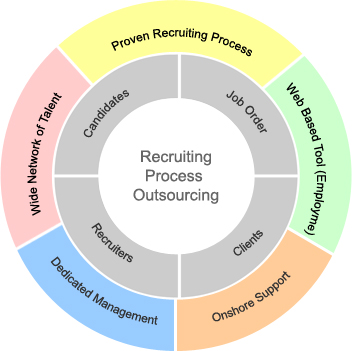 EmployMe is a secure, web based recruiting, applicant and job order management tool which has been in use for over 6 years. Some of the major features include the following modules:
Talent Management Module
Job Order Management Module
Security Module
Job Posting Integration Module
Technical Screening Module
Reporting Module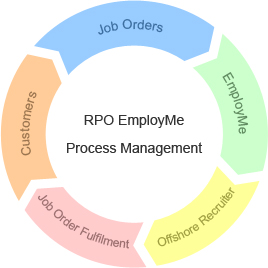 CoreEdge's standard recruiting process is as follows. We often add additional checks and balances based on each of our customerís needs and requirements. For example, we do education evaluations, reference checks, Social Security checks for some customers and credit checks for others. So, this process is customizable to the customerís needs.